Stargaze Enhanced Retinol Serum
Gentle enough for people who are new to retinol and still potent enough to see quick results.
We reinvented the wheel on typical retinol serums, so you'll no longer have to endure through a cycle of dryness, irritation, sensitivity and redness while ramping up on retinol.
If you've been scared of using retinol because of its potential side effects, then you don't need to worry anymore. Even people with sensitive skin can use Stargaze daily.
1.0 fl oz / 30 ml
100-day happiness guarantee
Researched & manufactured in the USA
OBSESSIVELY FORMULATED
Stargaze features a proprietary time released retinol system (0.25% concentration), which allows the retinol to be gently dispersed and fully utilized by the skin while minimizing the typical irritation associated with retinol.
Retinol is joined by a complex of hydrating and calming boosters, including hyaluronic acid, niacinamide, aloe, myrtle leaf, ginseng, grape and white tea extracts.
Like all Maelove products, Stargaze Enhanced Retinol Serum is made in the USA, vegan, cruelty-free, gluten-free and free of parabens, phthalates, synthetic dyes and fragrances. 
Ingredients
Common questions about Stargaze
Stargaze is made for those who are brand new to retinoid products. Moonlight is for experienced retinoid users who want maximum potency.
Yes, you can. Stargaze is perfect for those who are beginners or coming back to retinoids after a long break. When starting out, use Stargaze every other night or every 3 nights then increase frequency gradually to a nightly use as your skin adjusts.
Once your skin has fully adjusted, you can upgrade to our Moonlight Retinal Super Serum for even higher potency.
We recommend you to use Stargaze at night (and always wear SPF 30 or higher during the day). If you use our other products, we recommend layering our NIA 10 Serum, Stargaze Serum, then the Hydrator B5 Serum. Follow with a deeply moisturizing cream like our One Cream to seal in all your products to your skin.
You can layer Stargaze with other products in your routine. If you use an AHA or BHA serum or cream, then we recommend using acid products and Stargaze on alternating nights until your skin adjusts.
If you're pregnant or nursing, then we recommend our Night Renewer Glycolic Acid Cream instead.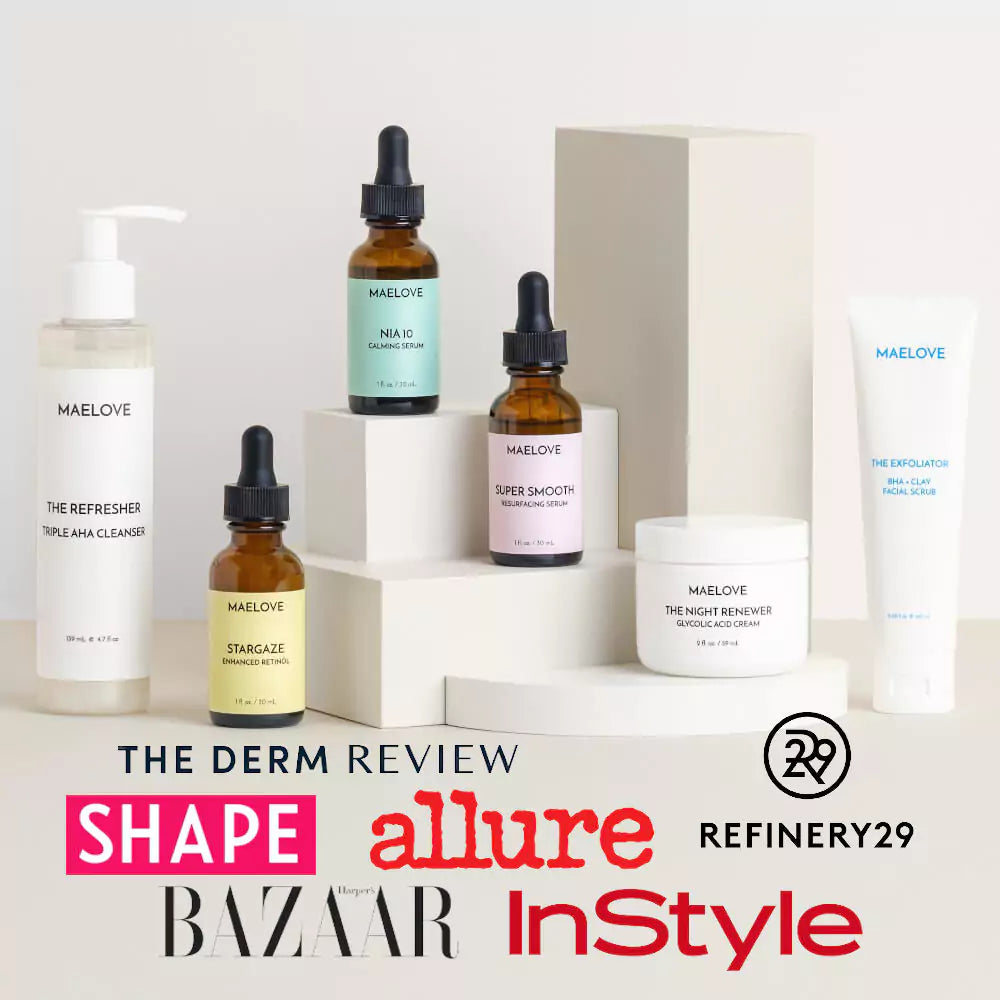 THE MAELOVE ADVANTAGE
We specialize in creating potent and effective skincare products that actually make a difference you can see and feel. And we back that promise with an industry-leading 100-day money back guarantee.
Shipping and returns are both FREE with no minimum purchase.