Try all 3 of our serums and save 10% on the bundle
Included in kit:
Glow Maker -- Vitamin C, E and Ferulic Acid.  Push back against premature aging and improve pigmentation.
NIA 10 -- Niacinamide (Vitamin B3). Helps with redness and diminishes enlarged pores due to inflammation. Recommended for rosacea and acne prone skin.
Hydrator B5 -- Hyaluronic Acid, Panthenol (Vitamin B5) and Resveratrol.  Get dewy and moist skin with this Hyaluronic Acid gel. 
100-day happiness guarantee
Researched & manufactured in the USA
Hear what our customers are saying about the Serums Trio
I finally have my skin back!!
The serum trio in addition to the refresher face wash has finally given me my skin back! I started suffering from adult acne, and thought I had tried everything.
This combination of products is perfect - they feel great, have almost no smell, and have done wonders for my skin at a fraction of the price of anything else I have tried. You won't regret trying this!
- Lindsay S.
Love how beautiful my skin looks
Hi! I bought the Serum Trio set and I love love how beautiful my skin looks. Actually my whole skin care regime is Maelove. Never would have believed that I would see a difference in my skin. But I DO.
Keep delivering wonderful products at an affordable price!
- Sandra G.
My skin has changed drastically
I purchased the trio set at a great value for the price. I got a chance to try all three serums and my skin has changed drastically.
I went from wearing foundation everyday to wearing tinted moisturizer and some days no foundation! My dark spots have faded greatly with these products! I love it so much that I am going to try other products. Thanks to maelove my skin is glowing again!
- Chery S.
The Glow Maker
Vitamins C (15% L-ascorbic acid), E and Ferulic Acid for superb antioxidant protection. Hyaluronic Acid for long-lasting hydration.
And a proprietary botanical blend (Vitis Vinifera, Aloe, Aurantium Dulcis and Magnolia) for extra nourishment and easy makeup application.
Let your skin drink up the good stuff :)
*Oil-free and Gluten-free formula
NIA 10 CALMING SERUM
10% Niacinamide to calm sensitive skin and reduce redness. Niacinamide (Vitamin B3) is also a great skin conditioner and an anti-aging agent that can reduce the appearance of fine lines and hyper-pigmentation over the long run.
Reinforced with Zinc, White Tea, Aloe and Mushroom extracts as well as Vitamin E to further soothe skin and deliver extra antioxidants.
* NIA 10 can be incorporated and layered into your existing regimen as a booster. Due to its calming properties, NIA 10 would be particularly helpful if you have trouble prone and sensitive skin (e.g. mild to moderate acne or rosacea).  NIA 10 is also a good alternative to Glow Maker if you're sensitive to Vitamin C or just plain dislike the smell of Vitamin C serums :)
Oil-free and Gluten-free formula
THE HYDRATOR B5 GEL
Hyaluronic Acid for boosting your skin's moisture content.
Combined with skin-nourishing Panthenol (Vitamin B5) and super-antioxidant Resveratrol to deliver nutrients as well as hydration.
*Oil-free and Gluten-free formula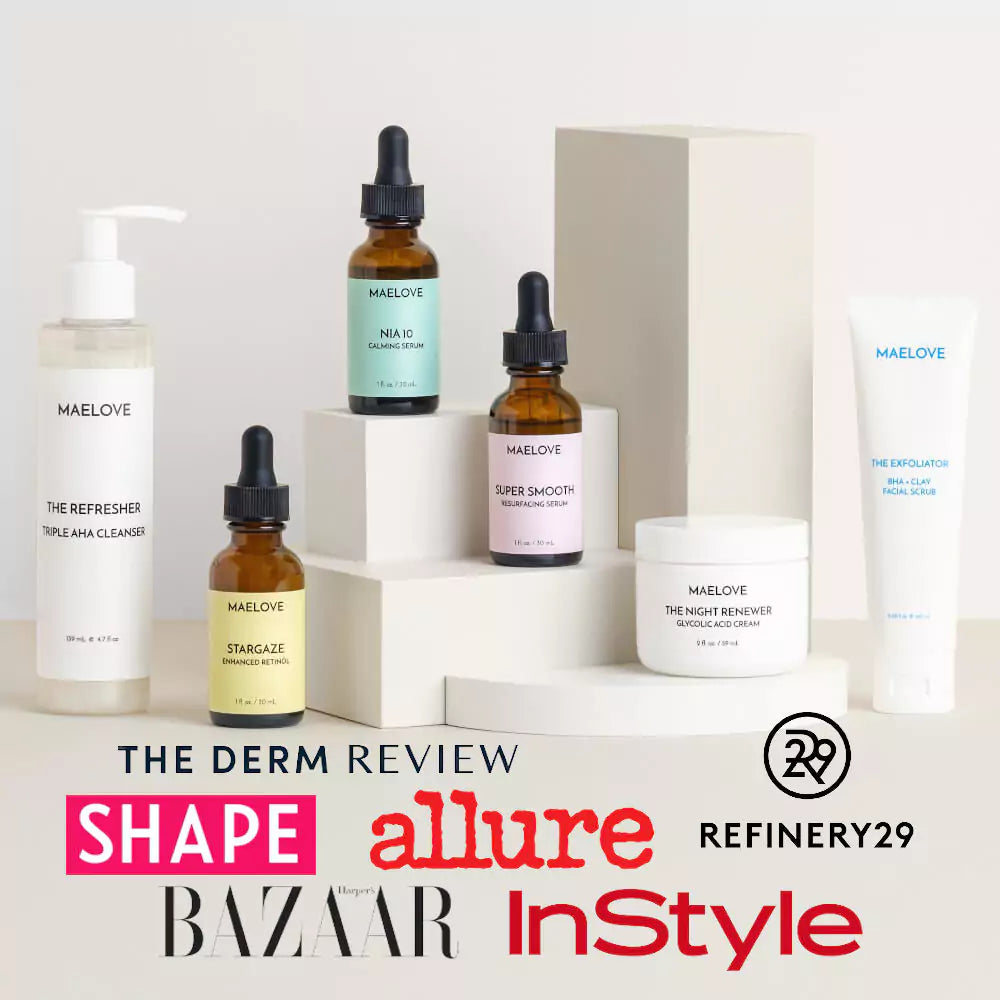 THE MAELOVE ADVANTAGE
We specialize in creating potent and effective skincare products that actually make a difference you can see and feel. And we back that promise with an industry-leading 100-day money back guarantee.
Shipping and returns are both FREE with no minimum purchase.