Fade Away Brightening Serum
Fade Away is our hyperpigmentation fighting specialist - designed to treat and prevent discoloration and stubborn dark spots, without the need of hydroquinone.

If you've been looking for a gentle and safe, yet powerful remedy for dark spots, then this is the perfect serum for you.
1.0 fl oz / 30 ml

100-day happiness guarantee
Researched & manufactured in the USA
OBSESSIVELY FORMULATED
The perfect trio of hyperpigmentation fighters - Alpha Arbutin, Kojic Acid and Licorice Root extract all work together to brighten, even and balance skin tone.
These powerhouse ingredients are complemented by an impressive array (botanicals, red algae extract and glutathione) of antioxidants and anti-inflammatories to prevent further hyperpigmentation from forming.
And unlike hydroquinone-based formulas, Fade Away Brightening Serum is safe for long-term daily use.
Vegan and cruelty-free, this formula is proudly manufactured in the USA in an FDA-registered, cGMP compliant and ISO 22716 certified (OTC medication-grade) lab.
Ingredients
HOW TO USE
Use AM or PM 2-3 times a week at first to get your skin used to it, then it's possible to use it up to twice a day. Apply after light serums (such as Glow Maker, Super Smooth, and NIA 10) but before thicker serums (e.g. Moonlight Retinal, Hydrator B5 Gel). Limit sun exposure because sun's rays will darken spots.
..and WHY IT WORKS
This serum works simultaneously in 2 phases.
Phase A - Fade existing spots
Three is better than one: In creating the Fade Away Serum, we replaced hydroquinone with the best trio of natural and safe depigmenting agents.
Alpha Arbutin, Kojic Acid, and Licorice Root inhibit the melanin overproduction underlying dark spots via a mechanism similar to hydroquinone - but without the safety concerns.
Phase B - Prevent new spots from forming
Hyperpigmentation is often a result of inflammation due to skin injuries (like acne, chronic sun exposure, etc) and UV damage. So, if we can limit inflammation and UV damage to the skin, then we can prevent spots from forming in the first place.
That's why Maelove's Fade Away serum is formulated with over 40 anti-inflammatory and antioxidant phyto-compounds from 14 different botanical extracts as well as glutathione and algae extracts, which helps to keep the skin balanced to prevent further hyperpigmentation.
The botanical blend of extracts is what gives the serum its vibrant green color. It's all natural without synthetic dyes.
ROOTED IN SCIENCE
Studies show that non-toxic agents (such as plant-based and marine-based antioxidants, anti-inflammatories, and depigmenting agents) can synergize with one another to be more effective than hydroquinone based therapies, but without the harmful side effects.
Check out some of our favorite scientific research and review articles below:
Boo YC (2021). "Arbutin as a Skin Depigmenting Agent with Antimelanogenic and Antioxidant Properties." Antioxidants 10(1129): doi:10.3390/antiox10071129.

Chandorkar N, Amin P, Tambe S (2021). "Alpha Arbutin as a Skin Lightening Agent: A Review." Int J Pharm Res. 13(2): 3502 – 3510.

Chang TS (2009). "An Updated Review of Tyrosinase Inhibitors." Int J Mol Sci. 10: 2440-2475. Doi: 10.3390/ijms10062440.

Choi S, Lee SK, Kim JE, Chung MH, Park YI (2002). "Aloesin inhibits hyperpigmentation induced by UV radiation." Clin Exp Dermatol. 27(6): 513-515.

Hollinger JC, Angra K, Halder RM (2018). "Are Natural Ingredients Effective in the Management of Hyperpigmentation." J Clin Aesthet Dermatol 11(2): 28-77.

Woolery-Lloyd H and Kammer JN (2011). "Treatment of Hyperpigmentation." Semin Cutan Med Surg. 30: 171-175.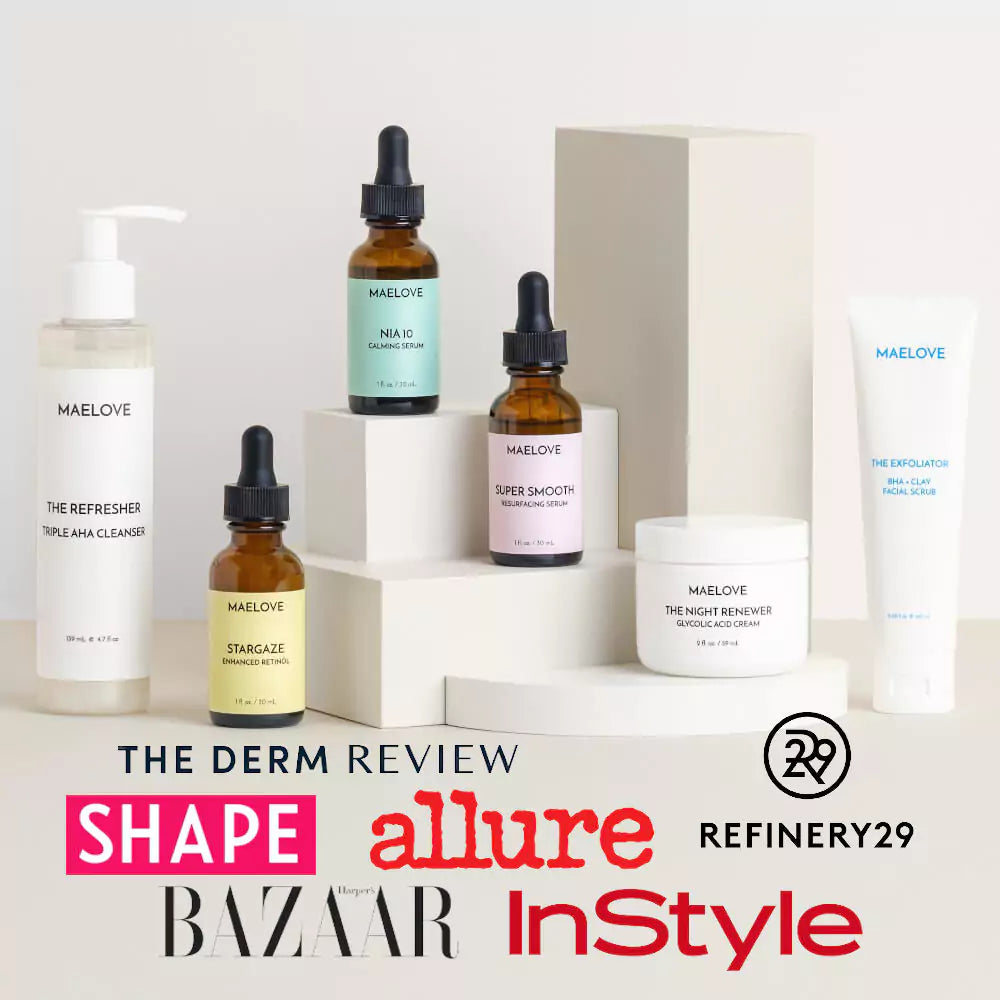 THE MAELOVE ADVANTAGE
We specialize in creating potent and effective skincare products that actually make a difference you can see and feel. And we back that promise with an industry-leading 100-day money back guarantee.
Shipping and returns are both FREE with no minimum purchase.