Moonlight Retinal Super Serum
Winner -- The Best Retinol Serum in The Zoe Report's 2021 Beauty Awards
Meet Moonlight, an upgrade on retinol serums. 

Our breakthrough was in choosing retinaldehyde (retinal), a form of Vitamin A which is estimated to be 10 times more effective than retinol. 
If you had given up on high potency retinol or prescription retinoic acid products due to irritation, Moonlight is the solution you've been looking for.
1.0 fl oz / 30 ml
100-day happiness guarantee
Researched & manufactured in the USA
OBSESSIVELY FORMULATED
Expertly stabilized retinaldehyde at 0.11% concentration delivers prescription level benefits by helping to improve uneven skin tone and appearances of photoaged skin. And because retinaldehyde is also antibacterial, Moonlight can help with acne as well.
We balance all that potency with our unique blend of nourishing ingredients (niacinamide, bisabolol, ceramide, tea extracts, hyaluronic acid and squalane) to keep away the typical irritation you might have experienced from retinoid products in the past.
The result is your dream come true. Now, you can finally enjoy all the promises you have hoped from retinoids without the harshness.
Ingredients
Common retinoid questions
Yes, retinaldehyde (also called retinal) is part of the retinoid family and is a relative of retinol (common in skin care products) and retinoic acid (available by prescription).
With Moonlight, our goal is to bring you a retinoid product that can deliver prescription level results but with much less irritation.

What we found working with retinol is that as the retinol concentration is increased, the effectiveness quickly plateaus as more retinol is added, but irritation keeps getting worse. It was the opposite of what we were looking for.

So, instead of retinol we chose its much more potent cousin retinaldehyde. We combined high potency retinaldehyde with a unique complex of soothing and hydrating ingredients to deliver you the balance of great results with less irritation.
If you're new to retinoids, we recommend being conservative with Moonlight when starting out. Use Moonlight once or twice a week for the first few weeks, and then increase gradually.
Or you can start with a good 0.1% to 0.3% retinol product for a few months then step up to using our Moonlight Serum : check out our Stargaze 0.25% retinol serum if you're concerned about sensitivity.
We recommend you to use Moonlight at night (and always wear SPF 30 or higher during the day). If you use our other products, we recommend layering our NIA 10 Serum, Moonlight Serum, and the Hydrator B5 Serum. Then use a deeply moisturizing cream like our Plush Cream to seal in all your products.
You can layer Moonlight with any other product in your routine. If you use AHA or BHA serum or cream, then we recommend using acid products and Moonlight on alternating nights until your skin adjusts.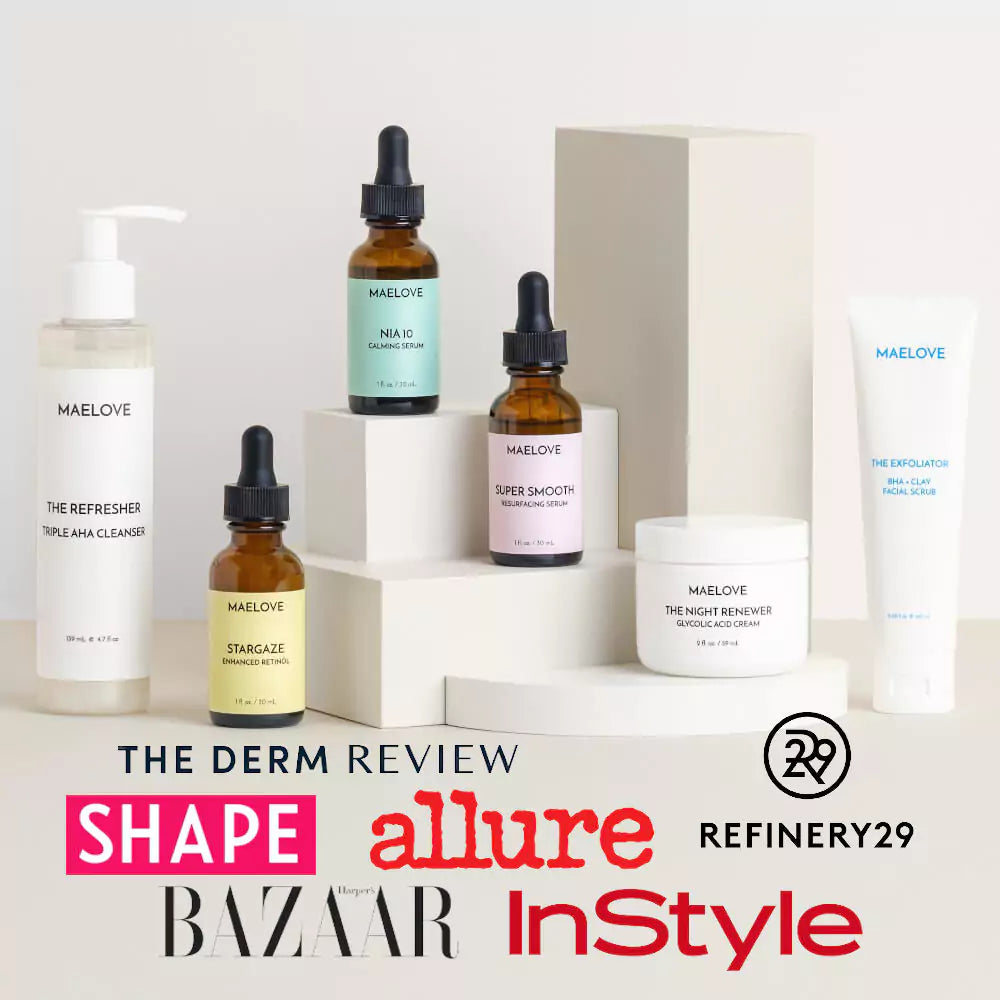 THE MAELOVE ADVANTAGE
We specialize in creating potent and effective skincare products that actually make a difference you can see and feel. And we back that promise with an industry-leading 100-day money back guarantee.
Shipping and returns are both FREE with no minimum purchase.